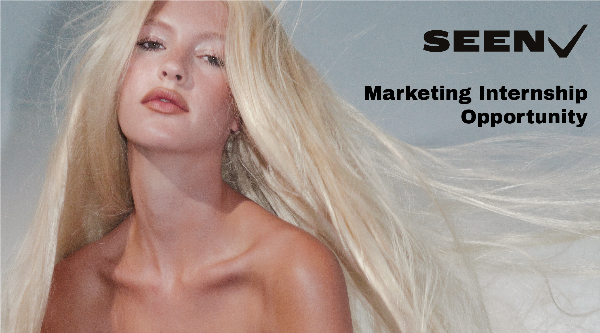 About us
We are a bold brand with our finger on the pulse of culture and cultural shifts, and a strong grip of conceptualisation. This role is located in Bucharest (not remote), you will work directly with the core team, including the lovely colleagues from the atelier, creative director and general manager, and you will report directly to the Marketing and PR manager.
More about us across our channels:
 
Website: https://www.seenusers.com/
Instagram: https://www.instagram.com/seen.users/ (@seen.users)
 
About the job
The SEEN Team is looking for a creative human who understands that creativity is just 50% of the job and wants to learn about the other 50% by joining our team as a Marketing Intern. If you are passionate about all that marketing entails (social media, content creation, strategy, digital marketing, communications) and don't mind rolling up your sleeves to the best of your ability, then we'd love to see your resume and help you grow. If you have a vested interest in luxury brands, which absolutely lead the market and behave differently compared to premium and mass-market brands, even better.
 
Responsibilities

 Support the team with marketing and other daily tasks;

 Assist with all marketing and advertising promotional activities, including, but not limited to, social media campaigns, content creation, copywriting, product description writing, entry level graphic design, newsletter creation, influencer strategy, product placement; there is a learning opportunity for everything;

 Assist with SEO-related tasks;

 Aid in implementing the existing strategies and provide input to improve them;

 Brainstorm ideas that can be implemented across channels;

 Assist with internally and externally produced photoshoots, as well as derived materials for relevant stakeholders;

 Curate visuals and identify emerging trends that can be translated into branded output with compelling storytelling, as well as other creative ways of communicating brand messaging. 
Requirements

 Bachelor's or Master's Student (Marketing or related field);

 Good understanding of Social Media and eagerness to learn more;

 Knowledge of Photoshop and Premiere Pro is not essential, but certainly a plus;

Strong computer skills; knowledge in the MS Office Suite, including Word, Excel and Outlook;

 Discreet and excellent at handling confidential information, especially where important clients are concerned;

 Flexibility and the ability to work in a fast-paced environment and adapt to change;

Excellent verbal and written communication skills; native-level Romanian and fluent in English; any other language is not a must, but a plus;

 Strong organisational, prioritisation and multi-tasking skills;

 Excellent follow-through and detail-orientation. 
Soft skills

 Natural problem-solver, with a flair for creative solutions;

 Proactive self-starter, but also a team player;

 Quick learner, who is able to tailor a story about the products on the spot;

 Eagerness to learn and creative fire;

 Can-do attitude – no task is too small or unimportant;

 Critical thinker, who can handle conflicting priorities and think on their feet;

 Strong communication skills, written and verbal;

 Interest in Luxury Brands and Marketing would make for the best learning experience in this environment. 
What We Offer
 A positive learning environment where questions are welcome and encouraged;
 Direct contact with colleagues with experience in various fields;
 The possibility to learn first hand about a notoriously difficult industry from a locally leading brand with international exposure;
 A flexible schedule; the position can be full-time or part-time, and we can absolutely account for a university schedule and establish working hours together;
 Consideration for hiring; the position is unpaid, and preferably to be offered as part of a university-required practical experience programme, but providing an open-ended opportunity to be extended a job depending on value-added, contribution and team fit;
 Documentation attesting to the experience accumulated throughout the course of the internship. 
All applications to be sent to marketing@seenusers.com with the subject "ASE Internship".